IMAGE
(Image credit: Tacori)
Whether you ardently follow celebrity news or only flip through a celeb magazine every so often, we confess that we are fans of ring-spotting incredible celebrity engagement rings to see who got it right...and who should have chosen Tacori. 
Like us, you wouldn't be surprised that many celebrity fashion choices start with"the bigger, the better", which means their rings often end up being incredibly rare, special (and often exorbitantly expensive). (Hi, we're looking at you, JLo from the "Bennifer" days with your incredible pink diamond) 
However, that doesn't mean brides-to-be can't take inspiration from celeb engagement rings!s! Simply take note of the design details of any engagement rings you particularly fancy, and then simply find - or design with Tacori -- a ring that reflects similar qualities within your style and price range.  Tacori offers options for all budgets, and we love collaborating with each bride-to-be or groom-to-be to create a totally one of a kind look that's red carpet (and wedding) ready! 
Ready to be dazzled? Here are the 30 of the most expensive celebrity engagement rings ever.
You can skip to any of the specific celebrity section by clicking on any of the names below:
1. Mariah Carey
Followers of the pop sensation Mariah Carey will not find it surprising that she tops the list of the most expensive celebrity engagement rings ever. Known for her extravagant lifestyle and bol
d personality, only a $10 million (€7.7 million) ring would be suitable.
Designed by Wilfredo Rosado, the massive 35-carat diamond and platinum ring was given by her then-fiancé, multi-billionaire businessman, James Packer, in 2016. 
Unfortunately, the couple never made it down the aisle. But Vanity Fair reports that Carey made the most of the situation, selling off the ring for a cool $2.1 million.
Here is a ring in our engagement ring selection that looks similar to Mariah Carey's engagement ring.
Photo Credit: Tacori
Celebrities provide many brides-to-be with inspiration for their engagement rings. (Image credit: Tacori)
2. Elizabeth Taylor
In her lifetime, the late Elizabeth Taylor was known both for her moving performances on screen and also her several marriages. Taylor, in fact, had a total of seven husbands but eight marriages.
Yes—you read that right! She married fellow actor Richard Burton twice, who first proposed to her in 1964 with a 33.19-carat Asscher-cut diamond worth $8.8 million (€6.8 million). Although they went on to divorce twice, Taylor was so enamored by the ring she continued to wear it for the rest of her life.
A similar design of this elegant ring is available in Tacori's engagement collection.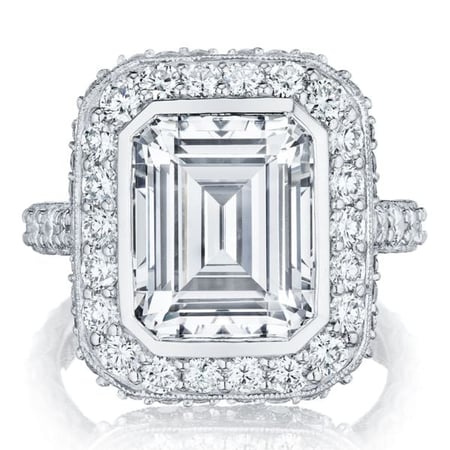 Photo credit: Tacori
3. Kim Kardashian West
With one of the most public proposals of recent times, Kanye West's proposal to Kim Kardashian in 2013 was watched by millions of fans around the world. With all eyes on the besotted couple, no expenses were spared with the stunning 20-carat diamond and platinum ring.
With a price tag of $8 million (€6.2 million), Kardashian West proudly wore the Lorraine Schwartz designed ring at every occasion she could. 
That is, until millions of dollars' worth of jewelry—including the engagement ring—were stolen from her private residence in Paris in 2016. 
West ended up gifting her the exact same ring following the robbery—except it's even bigger than the original.
Here is an elegant design by Tacori that looks like the Kim's engagement ring.
Photo credit: Tacori
 4. Beyoncé
Considered to be one of the highest valued diamonds in the world, the diamond that showcases in the 18-carat emerald-cut ring rapper Jay-Z proposed to singer Beyoncé with in 2014 is certainly jaw-dropping. Immediately drawing all eyes to it, the ring manages to balance bling and sophistication.
The ring was designed by Beyoncé's go-to jeweler, Lorraine Schwartz. Interestingly, it has continued to rise in value over the years. 
While Jay-Z initially bought the ring for $5 million (€3.8 million), it's now valued at over $9 million. Not a bad investment for the formidable billionaire couple!
An emerald cut was Jay-Z's cut of choice for his beloved. (Photo credit: Tacori)
5. Paris Hilton
When Paris Hilton was in her heyday in the early noughties, all eyes were on her every move. Attending an endless stream of parties and red-carpet premieres, she made it known that she lapped up the attention. 
So it only seemed natural that the image-conscious heiress would end up engaged to someone who shared her very name!
In 2005, after seven months of dating, Paris Kassidokostas-Latsis proposed to Hilton with a $4.7 million (€3.2 million) 25-carat emerald-cut ring. 
The couple called off the engagement months later, and Hilton auctioned the ring after their separation to help Hurricane Katrina victims.
Here's a similar design by Tacori.

6. Jennifer Lopez 
Coming in at number six in the most expensive celebrity engagement rings ever is the mesmerizing ring Mark Anthony proposed to Jennifer Lopez with in 2004. The $4.1 million (€3 million) ring is a rare 8.5-carat blue diamond ring that suits the popular singer's tastes to a tee. 
The singing duo remained married for a decade before splitting amicably in 2014. 
The couple continues to co-parent their twins, and Lopez has since become engaged to former MLB player, Alex Rodriguez.
Feel as elegant as JLo in Tacori's RoyalT engagement ring design. (Photo credit:Tacori)
7. Grace Kelly
Before famously marrying Prince Rainier III of Monaco in a fairytale wedding in 1956, Grace Kelly was considered one of the most glamorous and beloved actresses ever.
It makes sense, then, that she would be proposed to with a $4.06 million (€3 million) engagement ring fit for a princess. 
Take one look at her 10.47-carat Cartier emerald-cut diamond, complete with baguette detailing, and you'll see that it is as unforgettable as their love story.
This popular cut is available at Tacori.
Photo credit: Tacori
8. Vanessa Bryant
While there are rumors that the $4 million (€3 million) 8-carat engagement ring basketball player Kobe Bryant proposed to model and dancer Vanessa Bryant with in 2005 was, in fact, an "apology ring," she proudly wears the gorgeous ring anyway.
Here's a ring from our collection that resembles Vanessa's stunning engagement ring. (Photo credit:Tacori)
Before you walk down the aisle, you need to think about what engagement ring you'd like to wear. (Image credit)
 9. Melania Trump
The next ring in the list is the 12-carat ring that adorns the finger of Melania Trump. Former entrepreneur and current President of the United States, Donald Trump, spent a sizeable $3 million (€2.3 million) to signify their engagement in 2005.
The ring features a large square-cut diamond with modest gallery detailing. 
President Trump was previously married twice before meeting Melania, who he has been together with for around 20 years.
Here is a Tacori's engagement ring design as gorgeous as Melania's.
Photo credit: Tacori
 10. Jacqueline Kennedy Onassis
While this ring now just manages to secure a spot in the top 10, at the time it was the most expensive engagement ring to date. Named the Lesotho III diamond, the ring was purchased for $2.6 million (€2 million) by the now-late shipping magnate Aristotle Onassis.
He proposed to the widowed Jacqueline Kennedy in 1968, who we imagine must have been completely taken back by the massive 40-carat marquise-cut diamond.
A marquise-cut ring always adorned Jackie Kennedy's finger to symbolize her love to Aristotle Onassis. This look from Tacori is a more modern take on this stylish cut.
Photo credit:Tacori
11. Mariah Carey
No, this isn't a typo—Mariah Carey makes two appearances in our list! The ring in question this time is from her engagement to actor Nick Cannon in 2008. 
The eye-catching emerald-cut pink diamond comes in at 10 carats and set Cannon back a tidy $2.5 million (€2 million).
As gorgeous as Mariah's second engagement ring on our list is this Tacori's RoyalT design.
Photo credit: Tacori
12. Blake Lively
The relationship of actors Blake Lively and Ryan Reynolds is one held up today by many as being the "perfect" marriage. 
The passage of their marriage may have in part been helped along by the $2.5 million (€1.9 million) engagement ring Lively was proposed to with in 2011. 
The ring features a 12-carat diamond in a stylish oval shape—which is one of this year's hottest engagement ring trends.
You can find a similar oval-shaped beauty at Tacori.
Photo credit: Tacori
13. Anna Kournikova
Tennis extraordinaire Anna Kournikova has always stood out from the pack, so it makes perfect sense that her ring would too! 
Bought by Enrique Iglesias for $2.5 million (€1.9 million) in 2009, the 11-carat ring is not only unique for its one-of-a-kind design.
It's also unique because it's not an engagement ring at all, but rather a symbol that their trust is strong for one another.
This design by Tacori captures the uniqueness of Anna's ring.
Photo credit: Tacori
An engagement ring is a reminder of the special bond shared by you and your partner. (Image credit)
14. Ciara
For the definition of a glamorous engagement ring, look no further than the head-turning one Ciara is the proud owner of. 
The singer's 16-carat ring is completely adorned with jewels and cost her husband, American NFL player Russell Wilson, $2 million (€1.5 million). 
The couple started dating in 2015 and were engaged 11 months later.
Here's a glamorous design in our collection similar to Ciara's engagement ring.
Photo credit: Tacori
15. Kim Kardashian
Like Mariah Carey, Kim Kardashian features twice on this list. Although a far cry from $8 million dollars, this $2 million (€1.5 million) piece is nothing to balk at. 
Boasting a ginormous 16.2-carat diamond, the ring was given to her by basketballer Kris Humphries.
The couple televised the marriage, which controversially lasted for only 72 days in total. After they split, Humphries subsequently auctioned the ring off.
Here's a similar design by Tacori.
Photo credit:Tacori
16. Katie Holmes
Many of us will remember the surprising whirlwind romance of actors Katie Holmes and Tom Cruise. It escalated dramatically when Tom proposed to Katie in Paris, atop the Eiffel Tower in 2005.
In his elaborate proposal, he gave Holmes a 5-carat Edwardian-cut oval-shaped diamond ring worth $1.5 million (€1.2 million). 
The couple was married in November of 2006 in a Scientology ceremony but later chose to end their marriage.
This extravagant look by Tacori is similar to Katie's engagement ring.
Photo credit: Tacori

Oval-shaped diamonds exude a traditional feel. (Image credit)
17. Kate Upton
If you want to impress your model girlfriend, proposing with an 8-carat round-cut sparkler is the ideal way to do so. 
At least, that's what Justin Verlander thought when he proposed to Kate Upton in 2016 with the grand ring that put him back $1.5 million (€1.2 million).
A similar design is available in our engagement ring collection.
Photo credit: Tacori
 18. Jennifer Lopez
Yet another name that appears twice on this list is Jennifer Lopez. You may remember a time in the early nineties when Lopez and Ben Affleck were the "it" couple of the time. 
They fell in love after meeting on the set of the critically panned movie, Gigli in 2002.
Affleck proposed to her later that year with a $1.2 million (€926,712) 6.1-carat pink diamond.
You can find an engagement ring in our collection that resembles Jennifer's lovely ring.
Photo credit: Tacori
19. Jennifer Aniston
Fans of Jennifer Aniston were overjoyed to hear when her long-time boyfriend Justin Theroux popped the question in 2012. 
He proposed to her with a 10-carat pink diamond that had a price tag of $1 million (€772,260 thousand). 
In news that shocked Hollywood, the couple sadly split in February 2018.

Get a similar look in our engagement ring collection.
Photo credit: Tacori
20. Catherine Zeta-Jones
While many Hollywood couples struggle to stand the test of time, the relationship between Catherine Zeta-Jones and Michael Douglas has unwaveringly stood strong. 
Unbelievably, the couple has been together since 1998, with Douglas proposing to Zeta-Jones in 1999.
He proposed with a $1 million (€772,260) 10-carat side set marquise diamond ring designed by Fred Leighton. The couple got married the following year, meaning that next year they will mark their 20th marriage anniversary.
Here's a similar marquise diamond by Tacori. (Photo credit:Tacori)
21. Hilary Duff
Hilary Duff has grown up a lot since her time playing the character of Lizzy McGuire. If there's any need to prove just how much, consider that she is now married to the retired professional ice hockey player, Mike Comrie.
In fact, the two are doting parents to two gorgeous children. Comrie made things official back in 2010 when he popped the question with a $1 million (€772,260) 14-carat, princess-cut engagement ring.
Here's our design similar to Hilary's princess cut engagement ring.
Photo credit: Tacori
22. Gabrielle Union
Actress Gabriel Union and retired NBA player Dwayne Wade met at a charity event in 2009. 
They would later break up in 2013 but fortunately got back together in style with Wade proposing to Union that same year.
How did he do so? With a $1 million (€772,260) 8.5-carat, cushion-cut ring by designer Jason of Beverly Hills.
Here's a similar cushion cut diamond look.
Photo credit: Tacori
23. Khloe Kardashian
One part of the formidable force that is the Kardashian family, Khloe Kardashian's every move romantically has been under a close microscope since Keeping Up with the Kardashians launched back in October 2007.
While the couple recently split, Kardashian was overjoyed when she was proposed to by her boyfriend of several years, basketball player Lamar Odom, in 2009 with an $850,000 (€656,421) ring. 
Designed by Vartan's Fine Jewelry, the 12.5-carat radiant-cut ring stands out for having a stacked ring look by boasting not one, but two bands.
Feel like a Kardashian in this ring in our collection that looks similar to Khloe's!
Photo credit: Tacori
 24. Amal Clooney
When news that serial playboy George Clooney had finally found the woman of his dreams in then-Amal Alamuddin, we all got swept up in their heartwarming love story.
The actor proposed to the human rights lawyer in 2014 with a $750,000 thousand (€579,195 thousand) 7-carat emerald-cut diamond ring with tapered baguette diamond accents on each side.
This look by Tacori really captures the elegance of Amal's engagement ring.
Photo credit: Tacori
As you can see from these celebrity examples, rings come in all assortment of shapes, sizes, cuts. (Image credit: Tacori)
25. Angelina Jolie
Angelina Jolie and Brad Pitt had a Hollywood marriage like no other. Always nestled in each other's arms and spending family time with their six kids, the couple appeared unstoppable.
This certainly seemed the case when Pitt proposed to Jolie in 2005 with a 16-carat, radiant-cut custom engagement ring he designed himself. However, in a move that no one saw coming, Jolie filed for divorce in 2016.
Feels like a million bucks in this similar design by Tacori.
Photo credit: Tacori
26. Jennifer Aniston
Before Angelina, Brad famously dated Jennifer Aniston. The couple dated for two years before Pitt proposed with an 8-carat, radiant-cut center diamond.
Perhaps by coincidence, the engagement ring he popped the question to Aniston with had two of the same qualities as Jolie's. Namely, it cost the same and Pitt also custom designed it himself.
Her ring was incredibly unique but here is a ring from our engagement ring collection that's comparable.
Photo credit: Tacori
27. Jennifer Garner
The next engagement ring on this list is another $500,000 (€386,130 thousand) stunner. The (former) couple behind it are actors Ben Affleck and Jennifer Garner. Known for their squeaky-clean images, they fell head over heels for one another after becoming friends and working together on Pearl Harbor in 2001 and Daredevil in 2003.
Affleck proposed in 2004 on Garner's 33rd birthday with a Harry Winston designed 4.5-carat, cushion-cut diamond with baguette side stones. 
As celebrity followers will well know, their relationship came to a halt in 2017 when Affleck's indiscretions came to light.
Here's a similar beauty look by Tacori.
Photo credit: Tacori
Baguette side stones add an elegant touch to any engagement ring. (Image credit)
28. Lady Gaga
Songstress Lady Gaga is well known for her untraditional fashion choices. So the 6-carat heart-shaped diamond actor Taylor Kinney proposed to her with in 2015 was certainly right up her alley.
With a $500,000 (€386,130) price tag, the Lorraine Schwartz designed ring didn't come cheap. Sadly, the couple split before they headed down the aisle, with Lady Gaga returning the ring to Kinney following the split.
Find a ring as stunning as Lady Gaga's engagement ring at Tacori.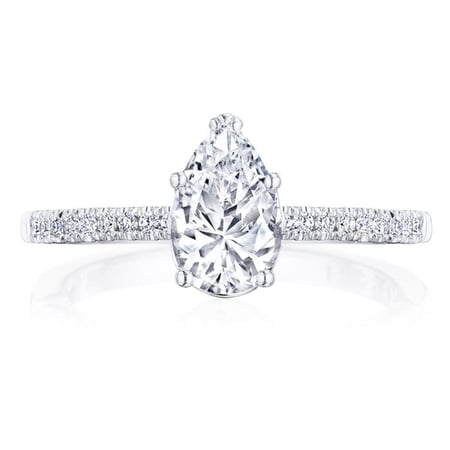 Photo credit: Tacori
29. Kate Middleton
Many royalists breathed a sigh of relief when the on-again, off-again relationship of Kate Middleton and Prince William finally seemed on the right track.
The world rejoiced when, in an incredibly thoughtful move, Prince William proposed to Middleton in 2010 with the same ring Prince Charles gave his mother, the late Princess Diana. 
The 12-carat sapphire ring is worth $500,000 (€386,130).
This engagement ring from our collection is like a diamond look of Kate's ring.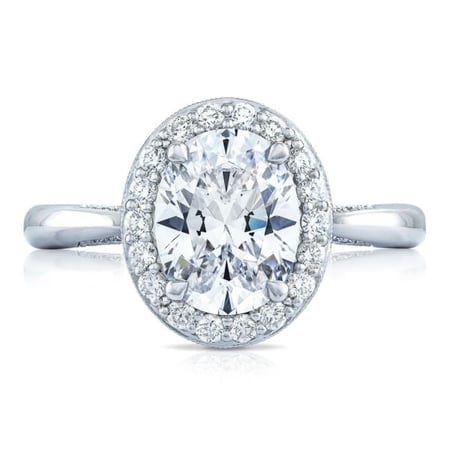 Photo credit: Tacori
30. Iggy Azalea
The final engagement ring on our list is the $500,000 (€386,130) ring basketball player Nick Young proposed to rapper Iggy Azalea with in 2015. 
Just like Azalea, this ring isn't typical⁠—a 10.43-carat ring made of an 8.15-carat yellow diamond and a white diamond halo set into white gold.
The ring was designed by Jason Arasheben of Jason of Beverly Hills. Unfortunately, they had a very public split when Young was caught cheating. 
He reportedly lost the ring after Azalea returned it to him after their split.
Here's a stunningly similar design in our engagement ring collection.
Photo credit: Tacori
So there are lots of things to learn while celebrity spotting and ring-admiring!  
Most importantly, we're reminded that it isn't about the price tag that predicts love and longevity, it's always about the commitment of the heart. 
At Tacori, our rings are proudly handcrafted with heart. Special orders are our specialty, and we would welcome the opportunity to design the ring of your dreams together. 
Please visit our site to view all our rings